Melbourne Youth Force
Building the capacity of young people to drive the response to the HIV/AIDS epidemic. A platform for global youth participation and leadership in the lead up to, during and long after AIDS2014.
For the first time in Youth Force history, the Melbourne Youth Force logo was decided on by young people from across the globe. With 272 young people from 56 countries casting their vote, the logo is a representation of the youth participation and leadership that is core to the Melbourne Youth Force. This demonstrates the value and importance of working together to ensure the voices of young people from all corners of the globe are able to participate and be heard throughout both AIDS2014 and in the global response to HIV/AIDS.

Young people love the logo because:
It resembles the coming together of many different people, in harmony for HIV – what MYF is all about.

The red ribbon is prominent but the peace sign is colourful and bold and hopefully what the Melb Youth Force will be!

Red is the traditional colour for AIDS related advocacy, but this logo is mixing things up a bit. Its AIDS advocacy in technicolor, the hand signal stands for peace and victory.

The sign is very common among the youth, the hand signifies strength and diversity with the different colour, gender, race, different sexual orientation and class beliefs. The hand also has a scientific image that tells more of HIV preventions and innovative solutions.

Love the peace sign and the coloured hand reminds me a bit of a map with different coloured countries connecting.

One hand with different colours describe all nation puts our hand together we can do so much.
Join us!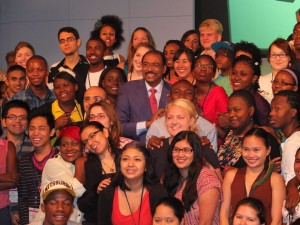 World AIDS Day
To launch the countdown to the AIDS 2014 conference, There were a series of events held across Melbourne: MYF and Youth Empowerment Against HIV/AIDS (YEAH) helped to promote the conference, as part of the 'Paint the Town Red' initiative in Federation Square and were joined by UNAIDS Executive Director Michel Sidibé. YEAH helped to further […]
Continue reading →
---
1 month ago 1 Comment

Upcoming
Deadlines
Scholarships
in 5 days.2 hours.54 minutes
Standard Registration
in 12 days.2hours.54
minutes